Amber Benson co-wrote and directed the animated webseries Ghosts of Albion with Christopher Golden for the BBC. The duo then novelized the series in two books for Random House. She has written five novels about Calliope Reaper-Jones, beginning with Death's Daughter, which were published by Penguin Books. As an actress, Benson spent three seasons as Tara Maclay on the cult show Buffy the Vampire Slayer. She has also written, produced, and directed three feature films, including Drones, which she co-directed with Adam Busch.
Bradley Beaulieu:  1. The tone of the Calliope Reaper-Jones series is light and fun with a touch of gallows humor (how can there not be with books about Death, Inc.?), and it seems to me that it matches your personality. But as writers there are any number of places where we're pushed out of our comfort zones. Where in the writing of The Golden Age of Death were you pushed out of your comfort zone?
Amber Benson:  I'm always accused of being earnest, but secretly I'm a total nut ball – so I'm glad you picked up on that! Well, if we're talking 'out of my comfort zone' here then I should tell you that I actually imposed a whole bunch of that on myself when I conceived The Golden Age Of Death. The first four Death's Daughter books were written entirely in first person – which was really starting to get boring for me – so I decided to mix it up a little. You still get Callie's POV, but since I knew this was going to be the last book in the series, I wanted to give the fans some insight into the supporting characters. So Callie's Executive Assistant, Jarvis, gets some play, as well as Callie's little sister, Clio. It was scary to write that way, but I enjoyed the challenge. Hopefully it works out – that's always the rub of experimenting.
BB:  2. With the release of The Golden Age of Death, the Calliope Reaper-Jones series has now reached its fifth installment. It seems to me that one of the more challenging parts of writing an open-ended series is keeping the characters fresh for both you and the reader. Do you look to have the primary characters change over the course each book? Do you find that it's difficult to do so without retreading the same ground? And if so, how do you find news ways to keep things fresh?
AB:  Well, mixing up the perspectives was a key way that I made this book interesting for myself. It IS difficult to maintain 'the fun' when you're writing a long-term series. I just tried to find weird scenarios to put my characters in that were fun to write – I set the fourth book at a bastardized version of Hearst Castle replete with a bacchanal orgy that took place on an All Hallow's Eve Eve where magic and death got put on hold for 24-hours. It was really fun. I've also tried to give my main character, Callie, a real and fallible protagonist. She makes mistakes, but she learns from them – I really believe she has grown into someone special over the past five books.
BB:  3. One of the more common themes in my own fiction is death and what it means, to those who die, to those who are left behind, and so on. What were some of your personal goals for writing a series about death? Did you, either in the initial conception of the series or later during the writing of the books, want to explore some of your own personal thoughts about death.
AB:  Oh, I am a hardcore thanatophobic – fear of death was a big reason I wrote these books. Plus, I've always been annoyed by the idea that we have all these
world religions and they all scream that only they are the true word of god/the creator. I wanted to create an alternate universe where all religions were right, where every believer/non-believer had a place in the hierarchy of death/life and where Death was run like a corporation – autonomous and impartial. In my books, everyone gets a chance to learn and move up through the system. To me, death was just the beginning.
BB:  4. It's interesting to me that while there's been a certain trend lately to feature girls on covers in death or deathlike poses, your series is about death and it features a young woman on the cover who looks empowered without resorting to sexing her up. Have you had much input on the covers? Are you pleased with how Calliope has been portrayed on them?
AB:  She is definitely a hardy character. She doesn't wilt like a lot of ladies in the romance genres, but she's not a total badass like what the urban fantasy world normally champions. I wanted to create a real girl, who was not perfect. I wanted her to screw up stuff and make bad choices – just like I do as a real person. I think that has been embodied in the covers. She's not swooning over some dude, she stands on her own two feet – and I really love that, that she has been represented that way on the books.
BB:  5. I don't know if you've seen the recent backlash against sexism in books, comics, and video games from folks like Jim Hines, Escher Girls, and Tropes vs. Women in Video Games. What are your thoughts on this? In today's media-driven world, is there room for sex and sexiness without relying on it to sell?
AB:  I get really frustrated that female protagonists don't get to be assholes. It's the sister, daughter, mother, whore, best friend conundrum and it leaves no room for women to be human and imperfect. No one is pure saint or pure villain, but that seems to be what the media and a lot of the world audience want to see. I have been become really obsessed recently with that line from Macbeth: "Come, you spirits that tend on mortal thoughts, unsex me here…" That's what I want. I want to create as a woman, but I want to be unsexed when my work is consumed. I want to be judged against myself, not against my gender or sexuality. As far as sex selling things…I am all for owning my own sexuality and using it to create. It's not because I particularly think it sells things, but it is a weapon in my creative arsenal and I want to be able to use it, unencumbered.
Source: sfsignal.com – Guest interview: Bradley Beaulieu asks Amber Benson five questions
Amber Benson is a writer, director and actor. She currently writes the CALLIOPE REAPER-JONES series for Ace/Roc and her middle grade book, Among the Ghosts, came out in paperback this past fall from Simon and Schuster. She co-directed the Slamdance feature Drones and (co-wrote) and directed the BBC animated series The Ghosts of Albion. Her acting work includes the Steven Soderbergh film King of the Hill, and the indie feature Race You to the Bottom, for which she won the Best Actress Award at Outfest. She spent three years as Tara Maclay on the television series Buffy the Vampire Slayer.
HWA President Rocky Wood said, "Of course, Amber is well known from her time on Buffy but we are pleased to have her as our Media Guest as she is also a director and a writer rapidly gaining a strong reputation. All this, plus she is a vocalist and has been involved in producing graphic comics! We are pleased she has agreed to share her diverse background and discuss her current projects with the Convention and I know attendees will be looking forward to her Guest of Honor presentation."
Over the course of the coming months leading up to the Bram Stoker Awards® Weekend Incorporating the World Horror Convention 2013 in New Orleans, Louisiana, I will feature a series of interviews with each of the Guests of Honor.
Darkeva: In addition to your acting career, you're also an accomplished film director, producer, and writer, but most people know you for your role as Tara on Buffy the Vampire Slayer. As urban fantasy and horror readers already knew you, how did that affect your transition to becoming a novelist?
AB: Well, I'd always written – mostly bad poetry and a few short stories and plays – but being on Buffy opened the door, as far as novel/prose is concerned, to a whole new world. It was through the show that I met Christopher Golden – who basically let me take Writing 101 at Chris Golden U! – and that's how I learned I could write a book. Something I'd been scared to do up until that point.
Darkeva: Tell us more about your relationship with frequent collaborator, novelist Christopher Golden. How did that come about?
AB:As I was saying before, it's all Buffy's fault. Chris had just done a Spike comic with James Marsters and he thought that doing a Willow/Tara comic might be fun. So he approached me about it and that's how we ended up doing the Willow/Tara comics for Dark Horse, which then led us to writing The Ghosts of Albion for the BBC and Random House. It was a wild prose ride!
Darkeva: Who are some of the horror and dark fiction authors, past or present, whom you admire the most?
AB: Oh boy, that's a good one. In no particular order: H.P. Lovecraft, Stephen King, Gillian Flynn, Christopher Pike…there are many more, but these were the ones who popped into my head.
Darkeva: What part of being a Guest of Honor at the Bram Stoker Awards® Weekend Incorporating the World Horror Convention 2013 are you most excited about?
AB: Well, there's being in New Orleans…which is hands down one of my favorite cities…but I'm also excited about getting to spend time with fellow creative 'makers of things'. It's all about taking what's in your mind and sharing it with the world – and you need the support of your creative peers to make that happen.
Darkeva: What other projects do you have on the horizon?
AB: I'm directing/producing a web series called "Girl On Girl" and I'm writing my first book in a new series for Penguin about Witches in Echo Park. I'm very excited about both of them.
A huge thank-you to Amber for agreeing to be part of this feature. Be sure to visit her website here. You can follow her on Facebook, Goodreads, Twitter, and her YouTube Channel. Just a reminder that the latest Calliope Reaper Jones novel, The Golden Age of Death is forthcoming February 26, 2013.
Source: thedarkeva.com – World Horror Convention 2013 interview with Amber Benson
As a lover of all things camp and grindhouse, I recently had the chance to screen Writer/Director Ward Roberts' new DVD release, Dust Up, and was blown away by how beautifully crafted his homage to the genre is. I recently got to sit down with Roberts and the film's star, Amber Benson to talk about filming in their creative process and, yes, Buffy the Vampire Slayer.
VB: How was it filming in the Mojave Desert? The whole movie has this sheen of "hotness" around it; you almost start sweating as you're watching.
WR: At one point it was so hot and we'd been shooting for so long that my brain just kinda shut down. I remember being outside with my head in my hands, trying to figure out how to cover a section of the final fight sequence, and for a stretch of time my mind would not form any kind of functional thought. The only thing I could think was that I couldn't think. It was scary there for a few minutes.
Despite that episode, overall I do believe the heat added to the intensity, the brutality even, of the film's aesthetic. [Cinematographer] Shannon [Hourigan] did a great job to capture that "hotness" during production and really brought it out to full-effect in coloring the film in post.
AB: It was so hot during the day on the Joshua Tree sets that I felt like we were shooting in a sauna, but then at night it was freezing — and I spend most of the night scenes in my underwear, so, needless to say, I was a walking side of goose flesh. Of course, by hotness, you could've also been talking about all my hot co-stars. It was a lot of fun being the "voice of reason," "mother figure" character in a movie full of attractive men.
In your varied careers, did you ever imagine making a film like this?
AB: If a script makes me laugh out loud when I'm reading it then I'm in. There is so little out there project-wise that moves me, when I find one, I insert myself into the process. So, the answer is: I may not have envisioned Dust Up in my future, but I was open to weirdness and that was what I got.
WR: Making any film is such a journey of discovery and hopefully pleasant surprise, you really can't imagine how exactly, it will turn out ahead of time. I wasn't really even sure what kind of film Dust Up was until I was staring at Gaffey, Devin and Travis during the second night of shooting and it looked like the Village People had dropped by for a visit. At that point I was like, "Ah, this is the film we are making."
Ward, Dust Up was a little bit of a reunion for your Drexel Box crew — what is it like working with a team you've grown so close with?
WR: This is our family that began in college and has been going and growing ever since. Dust Up stands on the shoulders of all the projects and playtime we've had over the last decade plus. So much of what Dust Up is came from this collective sensibility and style we've honing as a team. Telling a story you love and believe in with the people you love and believe in is an excellent way to roll.
Lastly, what's next for you both? Amber, any plans to make millions of fans dreams come true and do an official Buffy reunion? Do you get tired of being asked about that?
AB: Never tired of it, because it means what we did on Buffy moved a lot of people. When you stop getting asked about the show, then you know it's all over. Aside from Dust Up, the last book in my Calliope Reaper-Jones book series for Penguin comes out in March. It's called The Golden Age of Death. And I am also in post-production on a web series called Girl on Girl.
And Ward, on top of the incredible films Little Big Top and Lo, Dust Up is further catapulting you towards indie legend status — what's next for you?
WR: Well, I just had a blast playing a part in an episode of Hawaii Five-0 that will air in early 2013. It was the perfect time to break away from all the Dust Up madness and get my acting on. From the writing/directing end I'm cooking up a few things, but still no way to know which will be the next into production.
The main contenders are a horror-comedy and an action-comedy, both of which will appeal to those who dig Dust Up. Travis and Shannon's latest film, The Dead Inside, just came out so everybody should view that immediately. They also have a new film that looks close to getting off the ground in a very big way, so we are super stoked about that heading into the New Year.
You can read my full interview with Ward Roberts and Amber Benson (we talk Money-Shots!) at The Donnybrook Writing Academy. "Dust up" is now available on Demand, iTunes and DVD — seriously give this movie a viewing, it is pure camp in the best and most lovingly violent way possible.
Source:huffingtonpost.com – Dust Up Ward Roberts and Amber Benson
We passed the $150k goal for the interview a long time ago, but the interview turned out to be especially cool, and took a little while to put together because of it. As an added bonus, at the end of the interview, we announce our $450k stretch goal, so make sure to stay till the end.
So here it is: my interview with Amber Benson.
P: Heya Amber. Thanks so much for being willing to help out with Worldbuilders this year.
A: Howdy, Mr. Rothfuss, Sir. I just want to take this pre-introduction to say thank you for the opportunity, Sir. Thank you.
P: Okay. I'm notoriously bad at introductions. So how about we do it this way…
Let's say you're at a party and you meet someone you desperately wanted to impress. What sort of things about yourself would you casually drop into the conversation to prove you're one of the cool kids?
A: I'm such a dork when it comes to interjecting myself into other people's conversations – I slowly edge my way in physically and when no one blocks me out I might offer a few head nods and a laugh – I've been accused of laughing at stuff that's not funny just to make people feel more comfortable or to fit in – and then when you add in someone I'm impressed by, well, I'm less verbal, more stare. That's my contribution to coolness…the direct stare. Like if I'm silent I'm cooler.
P: Is that the key to being cool? No wonder I'm no good at it. I talk too much.
A: Yes, the silent stare is the key to being cool…or making everyone think you're a homicidal maniac. I'm not sure which.
P: Ok we still need to do something like an introduction here. How about this. Let's take turns listing your notable accomplishments, with the understanding that some of the things we say might be complete lies.
I'll start with an easy one: you played Tara on Buffy the Vampire Slayer for about four years.
A: I played Amaziah, a male dwarf––which totally threw off all the little girls in the audience, in the Birmingham Children's Theater production of Snow White and The Seven Dwarfs when I was nine.
P: I think I saw that on IMDB.
You worked as a fortune teller in a traveling circus for a summer.
A: I have sold Magic Spin Art art and lemonade on the sidewalk in front of my house––though the lemonade was the bigger seller.
P: Once, on a drunken bet, you recorded a youtube video declaring your undying love for Orlando Bloom. It got a quarter million views before you took it down.
A: ORLANDO BLOOM!!! Get your facts straight, Mister! It was Don Knotts…jeez louise.
I co-directed a movie about aliens in an office that is called Drones and it's on Netflix streaming. (I guess that's more of a plug than a notable accomplishment, though I did notably accomplish it.)
P: And, lastly, you're the author of the Calliope Reaper-Jones novels. Is that how you like to refer to the series?
A: Yeah, I guess that's the best way to refer to them or I could just call them the Death is a PMS-y little biatch series…that could work, too.
P: Okay. On to the hard-hitting qua-journalistic type questions:
Are you a native Californian, or a transplant?
A: I am a transplanted Alabamian. I grew up in Birmingham, Alabama, but my formative teenage years were spent in the San Fernando Valley. So that makes me a Southern Valley girl…Like gag me with a spoon, ya'll.
P: What are you reading right now?
A: I just read Gillian Flynn's 'Dark Places' – like finished it last night – I'm slightly obsessed with dark thrillers/mysteries with twisted female protagonists. I think it's cause I'm all lily white bread boring girl in real life – I want to get myself all wrapped up in dark stuff to counteract my typicalness.
The book before that one was Anton Strout's 'Dark Waters'… apparently I have a thing for books with "dark" in the titles.
P: If you had to pick your favorite book of all time, what would it be?
A: Not bloody fair!!!! Argh…too many….beautiful books…uhm…okay, probably Hermann Hesse's "Journey To The East". I want to live in that book.
P: Wow. Heavier stuff than I'm used to. I have a copy of Siddhartha on my shelf, but I've never gotten around to it. I'll admit I have a bit of an irrational aversion to reading capital-L Literature. If it's a classic of some sort, it's hard for me to pick it up.
A: I like capital-L literature. Mostly because at some point I realized that a lot of it is just Harlequin Romance, but with flowerier writing.
All the same angst, but from a different time period.
Jane Eyre – flowerier writing, but a straight up (implied sex) bodice ripper.
Sense and Sensibility – flowerier writing, but straight up YA romance (with marriage and implied sex).
Siddhartha – Eat, Pray, Love took a few things from Herman Hesse.
War and Peace – all the conniving of that movie Mean Girls…bitchy women, manipulative men, naïve newbies.
P: You just saved me a whole lot of time with those summaries. Could you give me something for the Brothers Karamozov, too?
A: Damn you, Rothfuss! I'm gonna spin that question on its head and give you a run down on The Idiot (my fav Dostoevsky novel) instead:
The Idiot – uhm, a whole bunch of messiah action. So if you're a fan of the Bible, and there are a number of you out there, you'll love it. See the BIBLE – New Testament – for further reference.
P: Okay. Under your advisement, I'll bump The Idiot up over Brothers Karmozov on my reading list.
A: You had better bump it up, yo. I'm in no mood for your dilly-dallying around with the whole Russian Literature canon, dude.
P: So you're relatively new to the publishing world. Has anything about the process surprised you?
A: You do a lot of stuff for yourself – which I'm used to in the independent film world, but I thought publishing would be more hands on. Sadly, it's just like independent film – you're the first, last and only stop as far as getting people to fall in love with your work.
P: Speaking of indi film, I was curious to talk about Drones a bit…. Can we do that?
A: Yes. Yes, we can.
P: First, I have to say that I loved it.
A: Woohoo!! Everyone go check it out on Netflix streaming – just knowing about this movie makes you way cooler than all your un-clued in friends.
P: I seem to have developed a bit of a man-crush on Johnathan Woodward. I liked him well enough before this, but now it's more than that. I blame you.
A: For those of you who do not know the esteemed Jonathan Woodward…well, all I have to say is "if you snooze, you lose". No, just kidding. I feel like, in Drones, Woodso (you can call him 'Woodso', too, now, Pat, 'cause you are in the know!) actually channels a young Bill Murray post-Meatballs, but pre-Ghostbusters…it's kind of uncanny.
P: How did you get involved in the project?
A: My co-director, Adam Busch, and our producer, Jordan Kessler, were looking to make a film together – one they could shoot in Jordan's office in Louisiana. So they got our friends Acker and Blacker to write a script. The script was really good and the guys realized it needed to be made on a real set, not in Jordan's office and they needed some directing help, so they asked me to jump on board – and that's how it happened.
That's my story and I'm sticking to it. There were no drugs or prostitutes involved with the making of this film. I swear on a stack of Acme Bibles.
P: Which do you prefer: The relatively solo nature of writing, where you're in absolute control, but you also have to do all the work. Or the collaborative nature of TV and film where you have more help but less overall control of the finished product?
A: That's no fair! I love them both – writing is amazing because I am God when I'm sitting at my computer. I am the Master of that Universe – the Big Banger – the Decider – and that's a really, really nice feeling. Especially since real life is all about accepting that you have zero control over most things…and even the things you kinda have control over, you still end up ceding your power more often than you like.
On the other hand, making moves, TV, Web stuff is fucking amazing. To see something in your head and then to have it come to life is a feeling I liken to crack. Crack cocaine…a highly addictive substance. It's super collaborative, but if you pick your circle of collaborators wisely, and trust them and their taste implicitly then you kinda can't go wrong.
P: Since I've never been involved in it, it's hard for me to understand how collaborative storytelling in TV and film really works. I end up thinking of the script writer as the creator, the actors as interpreters (of sorts), and the director as an extremely hands-on editor.
How horribly off-base is that comparison?
A: There is some truth to what you just said. I always likened being an actor to being a pawn in someone else's chess game. I get bored easily and I like to move in lots of different directions––I'm just cool like that-Ha!––so being a pawn wasn't the most exciting thing for me. Although, it is the pawn alone of all the chess pieces who has the ability to one day become a Queen (or a knight or a bishop or a rook)…so there's that.
In television, they say the writer is King. In film, it's the director…and I kind of agree with this supposition. For me, it's just all about working with people I love and respect and trusting that the ideas they bring to the table up the game on the project.
I like to pretend to be in charge when I direct, but really, being in charge is all about letting the people around you shine…protecting them when things get tough…and not being afraid of letting the buck stop with you. I maybe the captain of the ship, but I can't do everything.
P: At this point, you've done work in each of those areas: writer, actor, and director. All other things being equal, which one do you enjoy the most?
A: I guess…even though I should dither around and pretend like I think they are all equal…that directing gives me the most joy. I like leading an army and that's what the director (if they're a good one) does. I'll ride into battle with my men and if I am wounded in the pursuit of creative passion then so be it.
P: Okay. Back to some book talk. How often do you check your Amazon sales rank?
A: I go a long time ignoring it…then I'll check it obsessively for like a week and then I'll ignore it again. It's like being a sex addict…only there's no sex. Just numbers and mean reviews.
P: Oh man. Tell me about it. I fell off the wagon just a couple days ago.
The Amazon wagon, I mean. Not the sex wagon.
A: There's a sex wagon?
P: Not here in Wisconsin. We don't go in for that sort of thing. More's the pity.
A: I live in LA – the home of the Sex Wagon, apparently. (Got that from googling sex wagon on my computer.)
P: You're just fucking with me at this point, aren't you? You're trying to trick me into googling "sex wagon" and then I'm going to see something that will leave me a gibbering wreck.
I'm not going to do it. I refuse.
A: You will either find…if you google sex wagon (in quotes) A DJ named DJ Sex Wagon or that the car with the Sex Wagon distinction is…drum roll…station wagon!!!!!
P: I'm still not falling for it.
You mentioned the mean reviews. Do they stick in your teeth too? A while back when I broke down I saw my last four Amazon reviews were all 2 and 3 stars. It took a remarkable shit on my otherwise good day.
A: Bastards.
P: Total bastards. Sharing their honest opinions in a public forum. Who do they think they are?
Out of curiosity, do you experience any of the same thing when you act? Would you occasionally go looking for reviews when you were doing Buffy and then obsess about them in the same way?
A: I learned not to give a shit about what people think of my acting. I act for myself, not for them and if they don't like it, they can go find the sex wagon and get stuffed. (Wow, that analogy worked out well for me.)
P: What's the most hurtful thing someone has ever said in a review of your book?
A: Oh, there are way too many bad things that have been said to fixate on just one. I actually had to stop looking at the reviews…uhm, immature is a nice word that gets used quite a bit, shallow…whiny….oh, joy. Yeah, I guess I'm a teenage girl – 'cause those adjectives I just said, well, they're used mostly to describe teenage girls.
P: What is the best compliment you've ever received?
A: "You made me snort my milk, I was laughing so hard." I am all about entertaining the peeps – my writing is the opposite of brain surgery – it should just make you laugh. Then I've done my whiny, shallow, immature best.
P: Do you have a particular piece of grammar that you screw up regularly?
A: "Get on a stick." Apparently, it's: "Get on the stick." Which makes me think of being on the rag for some reason, so I'm never gonna use it again, I've decided. I also misuse semi-colons on a regular basis. I like them an awful lot, so I try and use them wherever and whenever I can.
P: Ah hell. We were getting along so well. I happen to be a staunch anti-semicolonite. (Anti-semi-coloner?)
A: I am an Anti-semi-colonic-er, too! Hehehehe. I don't like either of them. I try not to use semi-colons or semi-colonics, but sometimes I am forced to and invariably I screw them up. Both of them.
P: If you could punch one author in the face, who would it be?
A: Myself…sometimes…but mostly I would like to baby tap Stephen King on the chin for being so damned creative. More of an annoyed punch, really, that one person can be so prolific. As far as a full on punch in the face, I reserve that for some of those Rush Limbaugh wannabe, right wing, conservative journalists/bloggers. They make my hackles rise.
P: Heh. Okay. We're good again. I can overlook our semi-colon differences in light of that.
Rumor has it that Voltare wrote on the naked backs of his lovers. Do you have any little rituals that help you write?
A: Hmmm…I knew I liked Voltaire. I like to check into a motel on the beach for a weekend to start each book I'm working on. It's like a 'start-cation'. It helps me get the book going – that is, until my dad comes to visit 'cause I always stay at a motel near him…and then I get no work done.
P: A while back I made a joke about "transition putty" on my blog. That being, of course, the stuff we writers buy at Home Depot to smooth out our rough transitions.
If you could have some sort of handyman tool like that, something like Plot Spackle or a Character Level. What would it be?
A: I would like to get a Rewrite Snake – it helps to get rid of all the crap you know doesn't really need to be in the book.
P: So while I was doing a little research online for this interview, I was googling around and was kinda stunned at the number of pictures there were for you online. There's fan pages… people put up Amber Benson wallpaper images for their computers….
Does all that kinda weird you out? Or is it old hat at this point?
A: It's a little weird. I get annoyed looking at myself in the mirror. I can't imagine anyone wanting to look at my googily face all day long on their computer. I know for fact that if you stare at my face too long it will open up a doorway to another dimension where the Fluffy-Froth people live – and no one wants to do that…unless you're in to Sex Wagons. They all have their own Sex Wagons in Fluffy-Froth Land.
P: It's true. I went there on spring break. I'd move there if it wasn't for the high property taxes.
A: Great place, right? Lots of cute boys.
P: Speaking of the sex wagon, are you writing anything steamy in your next book? Because if you are, we could do another team reading at Comic Con this year….
A: The fifth and final Calliope Reaper-Jones book "The Golden Age of Death" is pretty sexless…but I could write something naughty on a napkin and read that! I promise that it is a clean napkin…not a kleenex.
P: I've done a ton of readings in these last few years, but that one might have been the most flat-out fun I'd had in ages….
For those of you who don't know. Amber and I did a co-reading of a sex scene out of one of her books back in the day. The long version of the story and a video are over here.
A: I have to agree that it was balls to the wall my favorite reading. Really, it was just your accent that made the whole thing so amazing. It was SPOT ON!
P: Has writing sex scenes gotten any easier for you?
A: Yeah, a lil' bit. I've found that it's easier to write naughty bits in serious stories than in comedic ones.
By the way, I have had it up to HERE with 'then' and 'than.' From now on I'm just going to use 'thane' for both of them…it's got the 'a' and the 'e', so there's that thane.
Sorry for the digression. But seriously, when I'm writing straight up drama, I feel like I'm not allowed to laugh when I use the words "glittering woman hole" or "shining man member", it just cheapens those glamorous, golden phrases of lasciviousness.
P: No way would you ever write something that uses the phrase "Shining Man Member." I dare you to write a piece of erotica including that. I double-dare you….
A: Now, I don't know if you were aware of this…but there is something physiologically wrong with my brain that makes me incapable of turning down a dare. It's been a real problem for me, especially during those troubled adolescent, playground years when dares can make or break you popularity-wise.
With that said, I hell yeah can make "shining man member" the sexiest, naughtiest phrase that ever existed. But I double dog dare YOU to write a piece of erotica that uses the phrase "glittering woman hole" – and no hiding behind your beard because this means war, you know. A glittering woman hole/shining man member all out battle to see who is the new heir to E.L James and Anne Rampling (aka you know who).
P: Okay, hold on. We should really do this.
Here's my thought. Right now we're creeping on on Worldbuilder's 400K stretch goal. When we hit that, I'm going to donate an extra 100,000 dollars to Heifer International. 
But we still need a stretch goal for our $450,000 mark. If we manage to hit that goal, how about you and I agree to write this piece of Urban Fantasy erotica together? We'll trade it back and forth, scene by scene.
A: Oh, Mister, you are SOOOOOOO on!!!
P: I, of course, will write from the perspective of the female lead, the plucky redheaded vampire hunter named…. Um….
A: Deuteronomy Jones. That's your character's name. And she's a transsexual plucky red-headed vampire hunter.
P: Oh so that's how it's going to be, is it?
Okay. We're on.
You, of course, will be writing the part of Lance Franklin. A rogue warlock-in-hiding due to the secrets in his troubled past. And because he's half-succubus. (On his mother's side.) Also, he's a Calvin Klein model.
Man. I don't know if I'm excited about this. Or terrified.
Either way, you're the best, Amber. Thanks so much for helping out Worldbuilders. And thanks for the lovely interview.
A: No, you're the lovely interview, Mr. Patrick Rothfuss. And I look forward to some verbal dickery with you in the near and naughty future!
P: I'm looking forward to it too…
But remember everyone. It only happens if we hit $450,000 before the end of the fundraiser on January 21st at midnight.
Source: blog.patrickrothfuss.com – 150k goal interview with Amber Benson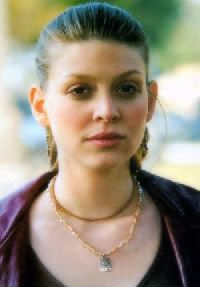 Amber Benson is pretty well-known in the lesbian community. And the television fan girl community. And the indie film-buff community. You get the idea, right? In other words: She's awesome. Playing the role of 'Tara' on the hit television show, Buffy the Vampire Slayer for three seasons, Amber quickly entered the radar of both viewers and critics alike. But what's different about Amber, versus any other talented actress who made a part legitimately their own, is her level of passion and aptitude for her craft.
Enter Dust Up, a film by Ward Roberts. Amber's latest role is Ella, a relatively normal homemaker who just so happens to be married to a moronic meth addict. Dust Up is a genre-smashing mixture of comedy, gore and over-the-top camp… Which doesn't mean it's good. Or bad. It's a film made by people who love movies and like it or not, audiences will appreciate that. CG had a chance to catch up with Amber on the road.
CherryGRRL (CG): You're an actor, writer, director and you've been singing since you were very young. Is there one title you feel most comfortable with?
Amber Benson (AB): Um, a person who wears pajamas really well. I think I feel most comfortable with that. [Laughs] Directing is my go-to on that question, because it combines everything that I do. I recognize that sometimes I have to sing for my supper, so there are other opportunities to do that.
Directing is great because you have to deal with people who are directly involved in so many ways. You're doing rewrites with the writers, talking with the actors and putting on the show. But I do them all in this business; it's the nature of the beast. Directing is the most use of all my talents put together.
CG: When you were playing Tara on BTVS, did you have a sense that you were a part of something prolific?
AB: I didn't at first, but people tried to tell me. I think everyone tried to warn me. [Laughs] Until you've been there, you don't understand. Halfway through that first year, I realized, 'Oh my God, this isn't just a passing thing. We are doing something kind of amazing.' The show, in general, was amazing, but also something special was happening with those characters. It was important. It wasn't just a TV show, it was a commentary.
CG: What attracts you to the characters you play; i.e. Flawed women (Maggie in Race You to the Bottom), mystical women (Tara), and women on a journey (Ella in Dust Up)? And speaking of mysticism, do you believe in paganism or anything like that?
AB: First off, Buffy is like a drug. They should just go ahead and put a warning label on that show. You watch it and you can't help but be enveloped by it.
CG: Oh yeah, you became really committed to the characters as a viewer.
AB: Exactly. And as an actor, you're thinking, 'These people have real lives and real stories that I have to tell.' As far as mysticism or paganism or anything like that, I hate to disappoint anyone but I don't ascribe to it. I'm not a witch. But I also don't discount it. I think there's something to it. I do think 'Wow, there has to be something more to all of this than us.' And you know what? I would love magic to be real.
CG: What appealed to you about Ella in Dust Up? What was your reaction to Ward Roberts' script?
AB: I read Ward's script and I laughed out loud. And that's really hard to do, to make someone feel that, through a script. So, I think, I was kind of hooked at that point. But I really loved it, and I really loved the cast. They're just damn good people and they love movies. There's something to be said about taking a role for money or for your career. Sure, money is nice, but I absolutely did this film because I wanted to, and I'm proud of it.
CG: You once said (to a journalist clearly less cool than I), 'I'll be a celebrity when I can cease to use the bathroom.' Has that happened yet?
AB: [Laughs] Yeah… I don't sh!t anymore. The truth is… Everybody poops. It's the great equalizer.
CG: You are very active on social media. Tell me about having that level of openness/connectedness to your fans.
AB: I think I terrify some people with it. I'm of the mind that 'you are who you are'. So I try to be as honest as possible. There's a line, right? I try to be protective of my privacy and my friend's privacy. I may want to take a photo of a friend's really cute baby, and I just can't do that because other people didn't sign up for my life. So, I try to be silly, fun and accessible. I try to be open, interested and talk about the things I enjoy. And I try to use my voice responsibly. If I say 'go vote', and it gets people to vote (not necessarily to vote for Obama, like me), but to vote in general, I'm down with that.
CG: With that being said, what's important to you this election year?
AB: The rights of LGBTQ people to marry and my reproductive rights are important to me. Yeah, the economy sucks right now, and it's a bummer. But the ability for someone in office to strip rights from me or my friends pisses me off. So many people in the entertainment industry/Hollywood are in the closet. When I played Tara, I met so many people who were changed by Willow and Tara's relationship, and I will never forget those people.
CG: What inspires you?
AB: A good book or a good movie works great. Also, a good meal. And dreams.
CG: If you could have any role in any TV show, on or off-the-air, what would it be?
AB: I loved The Wire. It had a cultish, raw quality to it. Right now, I'm really obsessed with American Horror Story. I also really like Louie.
CG: What would you like to accomplish that you haven't yet? What would people be surprised to know about you?
AB: I'd like to write a television show. I want to be a show runner and put my voice in the world, so that's in the works. I feel like everything is out there, but if you want to know more about me, follow me on Twitter. I don't update Facebook. My Twitter is linked to Facebook so that whenever I post on Twitter it automatically updates Facebook.
Source:cherrygrrl.com – Buffy fame, indie passion and more with Amber Benson
I had the pleasure of interviewing the incredibly talented, Amber Benson at Dragon*Con over the Labor Day weekend. Benson is best known for her role as Tara, Willow's girlfriend on the hit TV show "Buffy the Vampire Slayer." Benson stars in a new film called "Dust Up," which has been called "a freaked out joyride of weirdness." The film has been hitting the Sci-Fi/Fantasy Con circuit. Starting on October 2nd "Dust Up" will be available on Video On Demand and then will be released to DVD on November 13th. Dragon*Con website
Mike:
Everyone knows your stint on "Buffy the Vampire Slayer" as Tara, but they may not know that you have also have directed films, such as the 2010 release "Drones," which you co-directed with Adam Bush who played Warren on "Buffy." Also, you've managed to find time to write the popular Calliope Reaper-Jones book series. Your latest book, the fourth one in the series, is titled "How to Be Death." So why don't you tell us a little about Calliope and her world.
Amber:
It's an Urban Fantasy novel. I like to say that if you took Neil Gaiman and the "Devil Wears Prada" and you mushed them together that's what I write; which is an odd, odd thing. The books are about a girl named Calliope Reaper-Jones, whose father is Death. Death is run like a corporation, which he is the President and CEO of. In the first book he gets kidnapped and she's forced to come and run the company in his stead.
If she doesn't, her family will lose their immortality. Calliope wants nothing to do with the business; she just wants to be a normal girl, with a normal life. She's very Buffy-like in that respect, just wanting to be normal when you are sort of hoisted into this supernatural world. So, she sort of has to take over this job that is frightening to her. It has a lot of humor in it. I love to make people laugh, so if you read the books and you laugh, I've done my job.
Mike:
I loved the beginning of the first book when a Demon shows up at her building and Calliope acts like it's just a normal thing for her. In fact, she just tried to ignore this gigantic Demon hanging out at her building. Finally, she figures out that maybe she better figure out how to handle the problem.
Amber:
I think that's like everything in life. You're sort of forced into situations that you don't want to deal with. They just keep coming at you until they make you deal with it. Whether it's supernatural or it's just real life stuff, you just have to accept that there things that you have to deal with, even if you don't want to; that's just being human.
Mike:
Now the forth book is more of a murder mystery using some of the classic mystery formulas, such as you have a haunted castle with the large grounds and the dinner party where things are revealed. So was that fun to write, because it's a little more different then the first three books?
Amber:
Well, originally the series was intended to be a trilogy but then my editor said, "Hey, why don't we do two more." So in order to keep it fresh and interesting for myself I was thinking I would like to write a murder mystery. I love Agatha Christie, P.D. James. I like the cozy mysteries like Sherlock Holmes and I like Charlene Harris's Aurora Teagarden books.
I wanted to challenge myself to see if I could write something in that vein. So I took a lot of the cozy murder mystery tropes and injected them into this Urban Fantasy world. It was a lot of fun. I really, really enjoyed it. I very much enjoyed writing one of the characters in the book name Edgar Freezay, who is sort of my Sherlock Holmes homage. He's a fun guy to write and he will be making an appearance in the fifth book as well.
Mike:
And you have Runt, who has become Calliope's sidekick and partner. Why don't you describe a little about Runt because she's rather unusual character.
Amber:
My editor over at Penguin, Ginger Buchanan, loves Runt. Runt is a hell hound puppy who can talk. She's the daughter of Cerberus, the three headed guardian of the North Gate of Hell. She is very smart and wise. I've had such a good time writing this character. I just love her and my editor just loves her. In fact, every time I turn in a new book she asks how much Runt is in this one.
Mike:
When you are writing, you have a fair amount of control over your work because you are the one writing it. But when you're acting you have to speak someone else's words. Is that difficult for you as a writer to then be an actress, having to do someone else's work?
Amber:
You have to give over to someone's vision; so, it depends. When it's something like "Buffy," it's a no-brainer. It's easy, you just come in and the words are amazing. So you just come in and say them just as they are and they come across beautifully. But sometimes when you work on something that's a little clunky, you just have to say, "I'm not the writer and I am just going to try and act to help them make sense." Because I've made films and I am a writer, I sometimes have to scale back not inject my two cents. When I'm hired as an actor, I'm just an actor and I just have to be the best actor I can be.
Mike:
"Buffy" was such a unique show with some truly great characters. Your character, Tara was someone that everybody just fell in love with, so much so that everyone reacted to her death on the show to the point of overreacting in some cases. How did it feel when your part of such an amazing show and then have to leave it, because the show kept going on after your character's death?
Amber:
It was sad when I was leaving because when you're on a show like "Buffy" you're part of a family. You become really tight with the cast and crew. We would spend weekends hanging out together, doing stuff like Shakespeare readings at Joss' house. So you have this little family and when you're killed off a show, you leave the family. But I've stayed in touch with a big chunk of the people I worked with on the show, both cast and crew. You don't lose those types of friendships they continue on, even when you're not on the show anymore. I just did "Buffy" writer, Jane Espenson's web series "Husbands."
It was tough. It was hard for me because there were so many people invested in the character and her relationship with Willow. Fans were devastated by her death. I know that the production office got lots and lots of faxes asking "Why did you kill Tara? I'm mad at you! I'm not watching the show anymore!" But it's important to know that as awful as it was and as devastating it was to the fans, it really wasn't done to intentionally hurt anybody. It really was Joss' way of furthering Willows storyline. With the arc that she was on of abuse, the abuse of power and magic; which even could be parlayed into abuse of sex or drugs. I think it was very necessary for her to lose the most important thing to her, her girlfriend Tara. So I understood from the story point of view why it was done.
Mike:
So you're currently doing some other stuff, some acting. You are on this current season of the web series "Husbands?"
Amber:
Yes, I was on the second season opener of "Husbands" I don't want to do a spoiler but my character is pretty mean. I love Jeff, Jane, Sean and Cheeks. I just think what they are doing is fantastic.
Mike:
So it must be fun to take something of Jane Espenson, who was a writer on "Buffy," play something of hers that totally different. It's a comedy and it must be fun to do something other than the serious drama stuff.
Amber:
Yes, it was great. I got to tear up pictures, yell and say awful things. It was so much fun. When I showed up for the shoot, I brought my own clothes since it's such a low budget but fun shoot. And Cheeks, the star and co-creator of the show was like, "I don't know if that outfit looks housewifey enough." And I said "Oh Honey, I'll show you old, nasty housewife." After we shot it, he said "you were right, you nailed it".
Mike:
So you have one more book in the Calliope series?
Amber:
I do. I just turned in book number five which will be out in March of 2013. It will be the last book in the series and will wrap everything up. I have been working on this book series for five years and I am a little burned out on it.
Mike:
So are you going to start a new book series?
Amber:
That is what I am hoping to do. First, I am going to take some time off to write some stuff just for me. Then I am going to write a pilot, sort of in the vein of Louie. I love Louis CK. Plus I am working on a literary book that isn't any genre. And since I'm known now for genre writing, it's going to be a tough sell. But then I am hoping to start up a new series with Ginger at Penguin.
Amber Benson's book series The Calliope Reaper-Jones Novels are available at booksellers everywhere.  Amber Benson can be seen in Jane Espenson's web series "Husbands." Husbands website. Also, you can find Benson in the film "Dust Up," which will be available on Video on Demand October 2nd and DVD November 13th. Dust Up website.
Source: cwatlanta.cbslocal.com – Amber Benson Interview
Found by Anna Ziólkowska
Boy, it's nice to see Amber Benson again. Of course we all loved her on "Buffy," and saw her pop up on other series from time to time. She is the star of the movie Dust Up, which is now available on VOD, playing a mother who has to save her baby from cannibal drug dealers. We got to talk to Benson by phone and she was just lovely, laughing about her crazy movie and significant cultural impact. Spoilers for "Buffy" in case you're still catching up.
CraveOnline: Is the message of Dust Up "Just say no to drugs?"
Amber Benson: [Laughs] Just say no to drugs and cannibalism. That's really the message of Dust Up. At least together. Cannibalism and drugs together, not so good. One or the other's all right, just not together.
At one point you end up in a nice slave girl costume. Did you think about Princess Leia in that scene?
Oh, I definitely think it was a subtle homage to the Slave Leia outfit. I had my chains, I went for the throat, didn't succeed. It definitely I think was in Ward [Roberts] our director's mind when he put me in that outfit.
I love that it ended with a freeze frame ending. We don't see that enough.
That's a very '70s thing, isn't it? It's kind of MIA now.
Did you think long and hard about the pose you were going to strike for that?
It's funny because we didn't end it in a freeze frame originally. They did that in post. Originally we were talking and there was a whole bunch of other back and forth stuff. I think they felt like ending it there was really putting a button on the end of the film. So I'm happy with how it turned out. It was originally a little different.
I haven't seen everything but is this the first time you've played a mom?
You know, I played a mom in a pilot I did for Lifetime I did a few years ago. I guess, yeah, this is the first time that anyone has ever seen me play a mom really before. There might've been a couple of other things but this was the first real deal mom that I've had.
It seems like it's something that happens in an actor's life. Did you have a moment where it occurred to you you were starting to get the mom roles?
I will take them. I have no problem with being the mom. Oh, I played a mom once but the baby, spoiler, died. It was in another film. So I was a mom only for a short window of time. No, I think it's part of life and I'm not a mom myself but I appreciate the moms of the world and I will be the better man for them.
Now I saw Dust Up on VOD. Is VOD making it easier for indie filmmakers to get their films made and for people to see them?
Oh my gosh, yeah. I think more people will see Dust Up than will see probably I would say 80% of the other independent films I've done, purely because of video on demand and the fact that it goes into households through cable. It goes into households through the internet. You're cutting out the middleman completely and just going straight to your audience. They don't have to go to a theater. They don't have to go to a video store. It's right there and I think that's amazing and I think it opens the market up hugely. So many more people will see this movie.
Have you had an easier time getting projects made in the last few years because that's an option now?
I wouldn't say it makes anything easier as far as getting things made or raising money. I think getting eyes on the product at the end, it definitely makes that a lot easier. You know, I've been doing this a long time. I've been an actor for 20-something years and I've been making films myself for probably 10-11 of those years. When I first started making films, you made it and if it didn't go to film festivals, nobody saw it. Now film festivals have become a little bit obsolete because of video on demand and Netflix and stuff like that. They're still important but they're not the stomping grounds of independent cinema anymore. Now it's your cable box.
Speaking of your 20-year career, I noticed that your first movie was actually The Crush.
It was actually my second movie. That was the first one that came out but the first film I did was a movie called King of the Hill that Steven Soderbergh directed. Then I went straight from that set to Vancouver to shoot The Crush so they were back to back. It was my second, but first to come out.
How did those films come about? Had you auditioned for a lot more or were you discovered for those films?
I'd only been pursuing the acting thing in L.A. for like a year, not even that when I got King of the Hill. I thought, as you're wont to do as a young teenager, you're like, "Oh, I'm made. I've got a movie. I'm set for the rest of my life." Then I got The Crush. Right as we were filming King of the Hill, I got the call, "You're going to Vancouver." I'm like I'm totally set! And then I had a year of nothing after The Crush. So there's no rhyme nor reason to how the business works.
Those films were before I knew you, so what did you play in The Crush?
So I played Alicia's best friend, Cheyenne, in The Crush. I break my arm. It's very exciting.
Another favorite of mine, S.F.W., were you the "Everything matters" girl?
Ah, S.F.W.'s awesome.  That's me. I'm the "Everything matters" girl. Yup, isn't that funny? God. I was so nervous about holding the gun too and having to shoot it. It really freaked me out.
Obviously on "Buffy" you were in one of the first gay couples on TV, and now we have "Modern Family, The New Normal" and "Partners." Do you feel that was a pivotal moment in television?
I do. I feel like, first of all we were the first long term lesbian relationship on network television. You'd had Ellen kissing and there've been little bits and pieces here, but as far as the lesbian world there really wasn't anything like what we did on "Buffy." I think it opened the door and it wasn't gratuitous. It wasn't about two girls making out. It was about two people that happened to both be women who fell in love. I think that is more powerful, and that's what's so nice about "Modern Family" too. It's less about the fact that they're a gay couple. It's more about the fact that no, they're a couple and they're making it work and they have a child. It's just normal. It shouldn't be gratuitous. It shouldn't be about girls kissing girls. It should be like this is normal. This is life. If you find somebody to fall in love with period, you are just lucky, regardless of what gender or ethnicity or religious preference they have.
Do you ever run into people who are catching up on "Buffy" and haven't been spoiled yet?
Yes. Yes, I have and they're so funny. They're like, "I love you so much, it's so funny, la la la la la." Then you'll see on Twitter months later, "I was the one that met you. Why didn't you say you died? Oh my God."
It's breaking hearts all over again.
Yeah, oh, even people that have seen it. I'll get tweets from people that are like, "I'm re-watching season six. It's like a knife to my heart again." I'm like why are you watching it again? Oh my God, it's so painful. Don't watch it again. Skip that episode.
Was that heartbreaking line, "Your shirt," in the script or something you guys came up with?
Oh no, that was in the script.
Man, Joss just knows exactly what to say to make it the worst.
He does. He knows exactly what to say to destroy your heart.
I've always wondered in "Once More With Feeling," the last song "Where Do We Go From Here" fades out as Buffy and Spike leave. Did you guys record a full song for that?
Yeah, we did. I think it just continues on in the same vein and then it ends, but it does totally fade out in the show, doesn't it? Just like the com-plete in the "Under Your Spell" song.
But it's been 10 years and they've never released the full version of that song.
Really? It's not on the soundtrack?
It's still the TV version where it follows Buffy and Spike.
Huh, interesting.
Do you still sing?
Mostly in the shower. I don't play a musical instrument so I don't really write songs, but I'm always up for it. If someone else has something for me to sing, I'll sing it.
Were you ever part of the Shakespeare readings at Joss Whedon's house? And if so, why didn't you get in on Much Ado About Nothing?
[Laughs] Yes, I was part of the Shakespeare readings. I actually got to play Lady Macbeth opposite James Marsters which was lovely. That was amazing. I haven't worked on another project where people would actually spend their weekends together. It was kind of crazy. You'd work all week together and then on the weekends you'd still want to hang out. That's kind of a rare thing I think.
When fans recognize you, how many of them know you as Amber Benson and how many call you Tara?
I think it depends on the fan. Usually it's Tara. [Laughs] Occasionally you'll get somebody who says your name first.
Did having "Buffy" on your resume open a lot of doors in the last 10 years?
It has. It closed some doors and opened others. It's like anything in this world. You make of it what you will.
What did it close?
You know, playing a lesbian on television, I would not change it for the world. I feel like we did really good work and I feel like it was important and it was necessary but there were a lot of jobs I didn't get because middle America doesn't want to see Amber Benson because she played a lesbian. That was tough but like I said, I wouldn't change it for the world.
Wow. Sorry, I paused because I can't believe that's still an issue.
That was 10 years ago and I think it's a lot better now. I think you don't have the same stigma that you had back then. I think it's way better but there was a lot of weird stuff because of it. It just makes me angry because it shouldn't be that way. I'm not gay but I can imagine how hard it would be to be gay and have to deal with this stuff day in and day out. I just got a taste of it.
I still think we need a gay action hero.
Yes. I agree with you 100%. I think we've probably had a few of them. They just weren't out of the closet.
No, but I mean we need an openly gay badass who saves the world but f***s dudes.
Yup, I agree with you 100%. I look at the fact that we now live in the United States of America and our military is not Don't Ask, Don't Tell anymore. It makes me so happy. We were the last holdout in the western world. Every other country is open and here we are segregating ourselves because of homosexuality. It's just stupid. It makes me angry.
Me too. How was your experience bringing Drones to Fantastic Fest?
Oh my God, it was so much fun. First of all, I love Fantastic Fest. I love the Drafthouse. I love all those guys. I feel like they are one of the last bastions of independent film. They just are so supportive of indies and it's just such a great venue to show your film. We screened Drones twice and both times it was really amazing. I just felt really privileged to be there. I just think it's a great film festival and I love those guys.
Did that festival lead to your video/DVD release?
In part. We premiered at Slamdance and that was when things started coming together for the life of the film as far as getting it out there. The more festivals that we did, it just cemented all of that.
Are you directing anything again?
I've been working on some web series stuff. I kind of feel like that's the next [step]. For me, making independent film is not cost effective. You spend a lot of money and the return is not that great yet. It's changing. It's getting better again but I just feel like it's a lot of effort and time and financial drain and you half the time don't see any return. So for me to make a web series, you get to be creative, you don't spend a ton of money and then you have a venue immediately. You put it on YouTube, you put it on Vimeo, you can put it on a website and people can access it. So I've been working on something called "Girl on Girl." [Laughs] Not pornography.
What is "Girl on Girl" about?
It's about two girls who are living in Los Angeles and they're trying to meet men and they're failing miserably at it. It's a little bit of "Sex and the City" meets "Curb Your Enthusiasm."
Have you been generating your own projects for most of your career?
I feel like not so much generating my own projects per se as far as being an actor, but as a filmmaker, yeah. Everything I've done I've had to do myself, except for Drones. Drones kind of came to me through Adam Busch and Jordan Kessler, our producer. They were sort of putting things together and they brought me in. But everything else I've had to do myself. I feel like as far as acting, it's all networking and talking to your friends. Some of them will be like, "Hey, so and so's doing a thing. You should go talk to them." So you make a phone call and all of a sudden you're doing a little film in North Carolina.
Source:craveonline.com – Cannibalism and drugs – Amber Benson on Dust Up and Buffy
Amber Benson is the type of person commonly referred to as a bootstrapper, a go-getter. Never comfortable to just sit about waiting for the phone to ring she has taken the time between acting jobs to become a producer and a writer. I'm sure she'll be wearing more hats down the road. Her latest piece is a short story in the anthology 21st Century Dead: A Zombie Anthology. In this final part of our trilogy we discuss some of her working methods.
"When somebody calls and says do you want to do a job I say, 'Yeah.' I love acting and if I can make enough money to cover my insurance then great. But the writing is paying the bills right now. If somebody calls and says 'Here's money to go to the convention,' I'll go do it. Because you know what? I don't want to have to go get a real job. If I didn't have all of this stuff that I was doing I would have to nine-to-five. I would have to get a nine to five job. Because just being an actor doesn't pay. I would be so miserable. I'm not built that way. Some people need structure. I'm a self-starter. I get stuff done within my own framework."
So is it while you are at these conventions or traveling somewhere that you get your story ideas?
"I find myself filing away information, like somebody will say something and I'll think that's a great line or somebody's name will be really interesting and I'll think I'm going to use that in a book.
"I keep notes on my iPhone. Dreams are amazing. I have really weird, really bizarre, really lucid dreams. I've had black and white dreams but that's how I know I dream in color because I take notice. Wow, I had a dream in black and white! They are very real and I've gotten some ideas from dreams. I think writers have AHA! moments all the time. Constantly. What I think it is, is that you have got to go out and live your life. You have to go out and experience things. The more you experience the more you are going to find your creative muse."
I once heard William F. Nolan say that as a writer you should read everything you can get your hands on except whatever genre you are writing in at the time.
"That's exactly it. It's so true. You have to listen to what you are reading. Otherwise you miss it if you don't.
"In my writing I see all of it. I know how it looks. It's like a storyboard for a film. I know what the characters look like. I know how they move. It's all there. It's like taking my brain and putting it on paper. I have to tell you that for me the process of sitting down and writing…I'm a music person. I have to have music. I think it quiets some part of my brain so I can work. I'll put in something and it has to be the right thing for each thing I'm writing. It becomes like white noise. For me that's when I'm on the mark. That's when I feel like a real writer, when I'm so lost in the writing that it feels like reality. I'm seeing it. I'm there. I'm part of it. It's a never-ending story. You are transported into your book. Sometimes I look at my writing and I think, 'I did that? Really?'"
So now you've written four books over a period of four years featuring your character Calliope Reaper-Jones who just happens to be Death's daughter. How has she changed over that period of time?
"A little bit. Mostly her hair is longer. She is more staid, more centered. She is not as flibbity-jibbity as she was."
Do you ever find yourself laughing at your own sense of humor but then worrying that other folks might not get it?
"Oh yes. I like to work in coffee shops. I'll be sitting there writing and I'll start laughing. People will be looking at me like who is the crazy lady? I'll have my headphones on and I'll be sitting there giggling about the stuff, "Hee, Hee, Hee". My sense of humor is very weird. It's like the humor of a twelve year old boy. Things like potty jokes. My whole thing is that if I can make people laugh then I've done something right."
Do you reread you stuff after publication?
"No, no. I'm done with that. I'm going to learn from it and move forward. I think that's being a real writer, that fear and that need to be constantly better than what you've done. It's like golf. You are playing against yourself. Nobody cares. Just you. We're not writing literature we are engaging the reader. Preston Sturges made the film Sullivan's Travels about this filmmaker who wants to make this epic film and finds ultimately that humor and engaging another human being took them out of their miserable existence for a couple of hours and it's the greatest gift you can give somebody. That's what I think is really important with writing or filmmaking or acting or any of it. You are taking people out of their existence and putting them into another realm for a little while and it's exciting.
"Because in the doing I am satisfied. Once I'm done I'm not satisfied anymore. In the doing I am totally wholly satisfied for that time. You know, when you write something it lives on. I don't have kids so it's my work that lives on. But that too will go at some point. I guess it's a way of trying to beat death a little bit. We're all chasing that.
"I wanted to be Dostoyevsky but I don't think that's going to happen. It would be lovely to be Kerouac or Anne Rice or…it would be lovely to be those people but that's not really what I do, I guess. I don't know what I do."
So in the end what is it you are really left with?
"Satisfaction in my work, but I think I will always doubt. I do that as a filmmaker and as an actor. I think that everything I do is 'Oh my God it's awful. It's terrible!' I'm never satisfied, never."
Source: fearnet.com – Amber Benson From Buffy to Books Pt three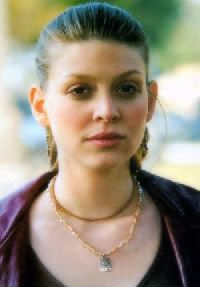 When Amber Benson posted the following tongue-in-cheek comment on Facebook a few days ago, I've finally made it – seriously, life is complete, she wasn't referring to landing the part of a lifetime or even writing the great American novel. She was talking about being a clue in the newspaper crossword puzzle. It referenced her role in the popular television series, Buffy the Vampire Slayer. In that comment alone you can pretty well wrap up the essence of Amber. Engagingly self-depreciating with an approach to life that includes doing the best she can and being thankful for what delights and opportunities she receives along the way. She is a creator and a builder, an idea person who loves to see it come to fruition.
With an exotic face that reveals insights beyond her years and a wicked sense of timing in her acting, she should be employed non-stop. But the new economy of film making has made the probability of being offered a choice part less of a possibility and the opportunities have either downsized or become less common and disappeared altogether. So she has turned to her second love – writing. During a break at a recent signing at Dark Delicacies for the fourth book in her Calliope Reaper-Jones series, How to be Death (her seventh book overall), she sat down with me and spoke of her life as an author, an entertainer, and her feelings about her personal growth and direction.
"I've written two books with Chris Golden, then I have Among the Ghosts which is a young adult novel, and then I have these four in the Death's Daughter series. So that's seven and I'm working on (number) eight right now. Chris and I did the three Willow/Tara comics together. We also did a couple of novellas and we have a new novel that we wrote.
"Yeah," she says introspectively, "you know writing is paying the bills right now. I love acting, but frankly it's hard to make a living being an actor. Who'da thunk? With these new independent contracts of making $100 a day, it is really difficult to survive."
So was the stint on Buffy the Vampire Slayer a double-edged sword? How has it effected her writing and efforts in areas other than acting?
"I hope that being on my fourth book in the series is changing that perception. I still know that when I go to signings people are much more there to get a boxed set signed for Buffy the Vampire Slayer. There are a few people there that say "I love the book!" but there are a lot of people there that are "I like the book but I'd really want my Buffy boxed set signed." So there's that balance. I'm hoping that as I continue to write that the number will be greater, people that want the book signed versus the boxed set. But I appreciate all of it and I'm happy to do it."
There it is again, that optimism, that smile in her soul that just beams out, I'm so thankful for what I've received in my life. She loves whatever she is doing at the moment and at this moment she's an author. She writes because she loves it and hopes her audience does too. They are nice-sized books worthy of a summer read.
"They are close to 100,000 words…95,000 – 100,000 words. Not until you are done does it feel like you are close to something.
"I've learned to be an outliner, not fly by the seat of my pants which is what I preferred before. Now I've worked with Chris Golden and he's beat it into me that you have to do an outline. Especially if you are working with somebody else. So I kind of took that. I sort of know where I'm going. I know how many chapters I'm going to have and how many sections each chapter has. I preferred discovery writing until I started outlining and I still kind of prefer that. I feel stifled sometimes. However, I've learned to not be a slave to my outline if things want to change. Like if characters end up doing this or that then…"
Aha, there's that sense of discovery, of letting the project run a little ways with itself to see what happens. Even her main character Calliope Reaper-Jones has that sense about her.
"Oh, she's always done that. She's always been a wily character. She's never wanted to do what I tell her to do. It's interesting. When I'm writing stuff that isn't for somebody, that doesn't have a deadline, I do go for it in a discovery sort of aspect. But when I'm writing for a deadline it is really tough. You're sort of limited. You've got to go, This has got to be done in nine months or whatever. You'd better get cracking. If you don't know what you are doing then you are in trouble."
Has Calliope has changed over the course of the books?
"A little bit. Mostly her hair is longer. She is more staid, more centered. She is not as flibbity-jibbity as she was."
How much of Amber is in Calliope?
"So much. It's hard when people tell me, She's unlikable. I don't like her. I think You don't like her because she makes mistakes? That's like saying you don't like me because I'm her partly. I make a lot of mistakes.
"She's become more mature and less self-involved over the series. For me that was the whole beauty of doing five books or three books to begin with. I wanted her to have an arc. I get so tired of these urban fantasies or paranormal romances where these women are thrust into these fantastical situations and they never once say, Wait a minute! I don't want to do this. I want out!  It's that hero's journey and I wanted to take a female protagonist on that hero's journey. I wanted the call-to-arms and then No way! I'm out. I just want to be normal. Like Buffy was beautiful for that. To me that is really interesting and I like anti-heroes. I like people who make mistakes and aren't perfect.
"I was talking to my friend Sara Kuhns, she's a writer and she's great. Her protagonists are not the very sweet, perfect kind of ladies. We were talking about how it's tough to get that I don't like her because she's not perfect. She said, "They are aspirational characters."  I feel like a lot of times readers feel like they just want to put themselves into that character so they don't want to make mistakes and be a mess or do things wrong. They want to make all the right choices and be perfect and lead this fantastical existence. I understand, especially with women's stuff, our fantasies are all about all this good stuff happening. All that princess stuff. Nobody wants to be the scullery maid. It's a journey. It's not A to B and getting to B is the end-all be-all. It's A and the journey to B."
In part two of our discussion we will explore Amber ambitions in the entertainment field.
In Part 1 of their Wizard World Philadelphia coverage, J.P., Kevin, Eamon and Funeral Home Joe discuss their experiences at the con, including the cosplayers, the shopping experience, the lack of carpets, and some of the stranger moments. Meanwhile, Eamon interviews the talented Amber Benson (Tara on Buffy the Vampire Slayer) and Dot Com of 30 Rock fame, and asks questions at the Buffy cast and James Marsters panels.
You can listen Here