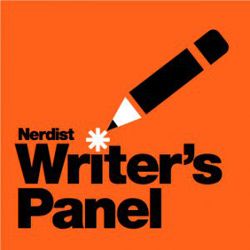 The Nerdist Writers Panel presents The Javi Games 4/23/2012
Date: Monday – April 23, 2012 – 09:30 PM
Location: Nerdist Education Theater – Los Angeles – General Admin
Doors Open 09:15 PM
Spend an evening in the garrulous company of writer/director Javier Grillo-Marxuach as he discusses his new comic book series, Ramiel: Wrath of God. But that's not all! Javi also wrote and directed a short film called Reverse Parthinogenesis. We'll screen that film and talk with its stars Amber Benson and Adam Busch. Need more? Javi also created the beloved ABC Family series The Middleman, and who knows? Maybe some of the stars of that show might make an appearance!
Hear: musings, ramblings, stories from the trenches of Lost, Charlie's Angels, Buffy, the Middleman, and other shows on which Javi, Amber, and the others have been involved.
See: your favorite writers and actors together!
Touch: get Javi's comics, Amber's books, Adam's CDs, and more SIGNED in the store before the event!
Give: as with every Nerdist Writers Panel, the thing benefits 826LA, the non-profit tutoring program.
Hosted by Javi and Ben Blacker, the producer/moderator of NWP.
For more information and to book tickets: nerdmeltla.com