Emmy Award winning writer Michael Reaves is creating a new film, BLOOD KISS, and
new genre, Vamp Noir. He's discovered a fresh acting talent to co-star, superstar writer
Neil Gaiman. Also starring fan favorite Amber Benson from Buffy the Vampire Slayer.
Blood Kiss revolves around detective Joe Belicek, who must solve the murder of a
vampire before a deranged killer murders them all. Inspired by Film Noir, this
supernatural thriller is set in 1940s Hollywood with famous haunts like the Brown Derby.
"Michael sent me the script. I told him, "it's a terrific script." and he said, "I want
you to act in it." I replied "There's nobody else I would act for."
–Neil Gaiman
BLOOD KISS will bypass the Studios, going straight to the fans for funding to greenlight
the film. Fans who contribute to BLOOD KISS' Kickstarter campaign are eligible to
receive exclusive rewards in exchange for individual pledges ranging from $5 to $10,000.
Because of Michael's personal struggle with Parkinson's Disease, Blood Kiss is proud to
be associated with the American Parkinson's Disease Association to promote awareness
of the disease.
Follow us on Facebook & Twitter to see all the surprises we have for Blood Kiss' evergrowing
fan base!
Facebook
Twitter
Official site
And from the 15th of May you can contribute to the film Kickstarter
After a fun-filled, pajama-clad midnight movie party at LeakyCon 2012, Amber Benson is joining LeakyCon Portland to talk vampires, witches, and other supernatural geekery. Amber played the musically gifted Wiccan, Tara Maclay on the hit series Buffy the Vampire Slayer.
We are excited to announce that this year, Amber will be joined at LeakyCon by her Buffy co-star Tom Lenk! After playing the villainous Andrew Wells on Buffy, Tom portrayed a snarky intern in Joss Whedon's Cabin in the Woods and has most recently starred alongside other fan favorites in Whedon's adaptation of Much Ado About Nothing.
Please help us welcome Tom to (and Amber back to) LeakyCon! They will be adding their voices to a multitude of panels and discussions throughout on Buffy and the Whedonverse.
Amber will also be joining the LeakyCon Lit Track to talk about her career as a novelist and her recently published The Golden Age of Death.
So…once more (with feeling!) please join us in welcoming Amber Benson and Tom Lek to LeakyCon Portland!
*
For more information of this event running June 27-30 2013 in Portland see
Leaky Con main site
Years ago, Amber Benson was battling supernatural forces on television. The actor/author played Tara Maclay on Buffy the Vampire Slayer. These days, Benson is busy creating her own supernatural characters. She spent the past five years delving deep into the life of Calliope Reaper-Jones, aka Death's Daughter, in a series of novels published by Penguin. The final book in the series, The Golden Age of Death, is out now.
Calliope is a young woman struggling to resist the pressure to enter the family business. That plot might ring true for a lot of readers, save for one little detail. Calliope's dad runs Death, Inc. Her family's business is basically getting people from the earthly world to the afterlife. In five years, Benson has penned five novels following the transformation of Calliope from the daughter who just wanted a normal life to head of the organization. With the series coming to an end, she turned up at Dark Delicacies in Burbank for a signing on Saturday.
"I've always been kind of obsessed with death," says Benson when we chat before the signing. "I think most people are."
Benson, who describes herself as "slightly thanatophobic," aimed to write a book that incorporated the varied beliefs of an afterlife that exist in the world. That's the universe in which Calliope exists, one where the departed move into afterlife neighborhoods that reflect their own cultural belief systems. Originally, Benson had only written one book, but her editor at Penguin suggested she break up the story into a trilogy. When she was nearly ready to turn in the third book, something happened.
"I had tied up all the bits and pieces and sort of killed off my main character," Benson explains. Then she found out that her publisher wanted another two books in the series. Benson went back into her notes and began unraveling the events that had just come together.
"I tried to make them interesting for myself," says Benson of the unanticipated follow-ups. The fourth volume, How to Be Death, became Benson's "homage to Agatha Christie." For her most recent effort, she explores several of the series' supporting characters, in addition to the protagonist.
Now that the series is done, Benson is at work on a new tale, this time involving witches who live in Echo Park. She's fascinated by the neighborhood, and by L.A. history in general. The witchcraft angle harks back to Benson's past. On Buffy the Vampire Slayer, her character Tara was a witch who studied magic with Buffy's BFF Willow Rosenberg.
When Tara and Willow fell for each other, they made TV history as a young, lesbian couple embarking on a longterm relationship at a time when LGBT characters were still fairly uncommon on the small screen. By virtue of her role, Benson herself became something of a cult television icon. And Buffy did, in many ways, help launch her writing career.
After co-writing a few comics set in the Buffy universe with Christopher Golden, the two were approached by BBC. That led to the animated series Ghosts of Albion. Benson and Golden then co-wrote the Ghosts of Albion books.
With a handful of co-writing credits to her name, Benson wanted to do something on her own. That's where Death's Daughter, the first of her adventures of Calliope Reaper-Jones comes into play.
"A lot of people bought the first book just because of Buffy," says Benson. While Benson wasn't expecting the Buffy the Vampire Slayer fans to stick with her after the first book, they did. "They've been really supportive and have really come to love this character, which is quite lovely."
Benson says that books are her "day job" now, but she hasn't left TV and film. She recently produced and directed a web series called Girl on Girl and is currently writing a pilot for a television show based on her own life. And, when Benson makes public appearances, the ghost of Tara Maclay is never far behind. At her many signings, people will approach her not just with her books, but with their copies of Buffy the Vampire Slayer DVDs. "That's always a good way to get your Buffy stuff signed," says Benson with a laugh. "Go to Amber's book signing."
Source: blogs.laweekly.com – A former Buffy Vampire slayer star now writes supernatural novels
Amber Benson co-wrote and directed the animated webseries Ghosts of Albion with Christopher Golden for the BBC. The duo then novelized the series in two books for Random House. She has written five novels about Calliope Reaper-Jones, beginning with Death's Daughter, which were published by Penguin Books. As an actress, Benson spent three seasons as Tara Maclay on the cult show Buffy the Vampire Slayer. She has also written, produced, and directed three feature films, including Drones, which she co-directed with Adam Busch.
Bradley Beaulieu:  1. The tone of the Calliope Reaper-Jones series is light and fun with a touch of gallows humor (how can there not be with books about Death, Inc.?), and it seems to me that it matches your personality. But as writers there are any number of places where we're pushed out of our comfort zones. Where in the writing of The Golden Age of Death were you pushed out of your comfort zone?
Amber Benson:  I'm always accused of being earnest, but secretly I'm a total nut ball – so I'm glad you picked up on that! Well, if we're talking 'out of my comfort zone' here then I should tell you that I actually imposed a whole bunch of that on myself when I conceived The Golden Age Of Death. The first four Death's Daughter books were written entirely in first person – which was really starting to get boring for me – so I decided to mix it up a little. You still get Callie's POV, but since I knew this was going to be the last book in the series, I wanted to give the fans some insight into the supporting characters. So Callie's Executive Assistant, Jarvis, gets some play, as well as Callie's little sister, Clio. It was scary to write that way, but I enjoyed the challenge. Hopefully it works out – that's always the rub of experimenting.
BB:  2. With the release of The Golden Age of Death, the Calliope Reaper-Jones series has now reached its fifth installment. It seems to me that one of the more challenging parts of writing an open-ended series is keeping the characters fresh for both you and the reader. Do you look to have the primary characters change over the course each book? Do you find that it's difficult to do so without retreading the same ground? And if so, how do you find news ways to keep things fresh?
AB:  Well, mixing up the perspectives was a key way that I made this book interesting for myself. It IS difficult to maintain 'the fun' when you're writing a long-term series. I just tried to find weird scenarios to put my characters in that were fun to write – I set the fourth book at a bastardized version of Hearst Castle replete with a bacchanal orgy that took place on an All Hallow's Eve Eve where magic and death got put on hold for 24-hours. It was really fun. I've also tried to give my main character, Callie, a real and fallible protagonist. She makes mistakes, but she learns from them – I really believe she has grown into someone special over the past five books.
BB:  3. One of the more common themes in my own fiction is death and what it means, to those who die, to those who are left behind, and so on. What were some of your personal goals for writing a series about death? Did you, either in the initial conception of the series or later during the writing of the books, want to explore some of your own personal thoughts about death.
AB:  Oh, I am a hardcore thanatophobic – fear of death was a big reason I wrote these books. Plus, I've always been annoyed by the idea that we have all these
world religions and they all scream that only they are the true word of god/the creator. I wanted to create an alternate universe where all religions were right, where every believer/non-believer had a place in the hierarchy of death/life and where Death was run like a corporation – autonomous and impartial. In my books, everyone gets a chance to learn and move up through the system. To me, death was just the beginning.
BB:  4. It's interesting to me that while there's been a certain trend lately to feature girls on covers in death or deathlike poses, your series is about death and it features a young woman on the cover who looks empowered without resorting to sexing her up. Have you had much input on the covers? Are you pleased with how Calliope has been portrayed on them?
AB:  She is definitely a hardy character. She doesn't wilt like a lot of ladies in the romance genres, but she's not a total badass like what the urban fantasy world normally champions. I wanted to create a real girl, who was not perfect. I wanted her to screw up stuff and make bad choices – just like I do as a real person. I think that has been embodied in the covers. She's not swooning over some dude, she stands on her own two feet – and I really love that, that she has been represented that way on the books.
BB:  5. I don't know if you've seen the recent backlash against sexism in books, comics, and video games from folks like Jim Hines, Escher Girls, and Tropes vs. Women in Video Games. What are your thoughts on this? In today's media-driven world, is there room for sex and sexiness without relying on it to sell?
AB:  I get really frustrated that female protagonists don't get to be assholes. It's the sister, daughter, mother, whore, best friend conundrum and it leaves no room for women to be human and imperfect. No one is pure saint or pure villain, but that seems to be what the media and a lot of the world audience want to see. I have been become really obsessed recently with that line from Macbeth: "Come, you spirits that tend on mortal thoughts, unsex me here…" That's what I want. I want to create as a woman, but I want to be unsexed when my work is consumed. I want to be judged against myself, not against my gender or sexuality. As far as sex selling things…I am all for owning my own sexuality and using it to create. It's not because I particularly think it sells things, but it is a weapon in my creative arsenal and I want to be able to use it, unencumbered.
Source: sfsignal.com – Guest interview: Bradley Beaulieu asks Amber Benson five questions
I have uploaded pictures from a recent book signing to the gallery click the picture below to see them: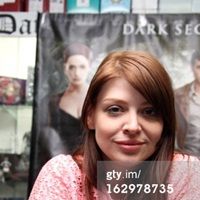 Amber Benson is a writer, director and actor. She currently writes the CALLIOPE REAPER-JONES series for Ace/Roc and her middle grade book, Among the Ghosts, came out in paperback this past fall from Simon and Schuster. She co-directed the Slamdance feature Drones and (co-wrote) and directed the BBC animated series The Ghosts of Albion. Her acting work includes the Steven Soderbergh film King of the Hill, and the indie feature Race You to the Bottom, for which she won the Best Actress Award at Outfest. She spent three years as Tara Maclay on the television series Buffy the Vampire Slayer.
HWA President Rocky Wood said, "Of course, Amber is well known from her time on Buffy but we are pleased to have her as our Media Guest as she is also a director and a writer rapidly gaining a strong reputation. All this, plus she is a vocalist and has been involved in producing graphic comics! We are pleased she has agreed to share her diverse background and discuss her current projects with the Convention and I know attendees will be looking forward to her Guest of Honor presentation."
Over the course of the coming months leading up to the Bram Stoker Awards® Weekend Incorporating the World Horror Convention 2013 in New Orleans, Louisiana, I will feature a series of interviews with each of the Guests of Honor.
Darkeva: In addition to your acting career, you're also an accomplished film director, producer, and writer, but most people know you for your role as Tara on Buffy the Vampire Slayer. As urban fantasy and horror readers already knew you, how did that affect your transition to becoming a novelist?
AB: Well, I'd always written – mostly bad poetry and a few short stories and plays – but being on Buffy opened the door, as far as novel/prose is concerned, to a whole new world. It was through the show that I met Christopher Golden – who basically let me take Writing 101 at Chris Golden U! – and that's how I learned I could write a book. Something I'd been scared to do up until that point.
Darkeva: Tell us more about your relationship with frequent collaborator, novelist Christopher Golden. How did that come about?
AB:As I was saying before, it's all Buffy's fault. Chris had just done a Spike comic with James Marsters and he thought that doing a Willow/Tara comic might be fun. So he approached me about it and that's how we ended up doing the Willow/Tara comics for Dark Horse, which then led us to writing The Ghosts of Albion for the BBC and Random House. It was a wild prose ride!
Darkeva: Who are some of the horror and dark fiction authors, past or present, whom you admire the most?
AB: Oh boy, that's a good one. In no particular order: H.P. Lovecraft, Stephen King, Gillian Flynn, Christopher Pike…there are many more, but these were the ones who popped into my head.
Darkeva: What part of being a Guest of Honor at the Bram Stoker Awards® Weekend Incorporating the World Horror Convention 2013 are you most excited about?
AB: Well, there's being in New Orleans…which is hands down one of my favorite cities…but I'm also excited about getting to spend time with fellow creative 'makers of things'. It's all about taking what's in your mind and sharing it with the world – and you need the support of your creative peers to make that happen.
Darkeva: What other projects do you have on the horizon?
AB: I'm directing/producing a web series called "Girl On Girl" and I'm writing my first book in a new series for Penguin about Witches in Echo Park. I'm very excited about both of them.
A huge thank-you to Amber for agreeing to be part of this feature. Be sure to visit her website here. You can follow her on Facebook, Goodreads, Twitter, and her YouTube Channel. Just a reminder that the latest Calliope Reaper Jones novel, The Golden Age of Death is forthcoming February 26, 2013.
Source: thedarkeva.com – World Horror Convention 2013 interview with Amber Benson
As a lover of all things camp and grindhouse, I recently had the chance to screen Writer/Director Ward Roberts' new DVD release, Dust Up, and was blown away by how beautifully crafted his homage to the genre is. I recently got to sit down with Roberts and the film's star, Amber Benson to talk about filming in their creative process and, yes, Buffy the Vampire Slayer.
VB: How was it filming in the Mojave Desert? The whole movie has this sheen of "hotness" around it; you almost start sweating as you're watching.
WR: At one point it was so hot and we'd been shooting for so long that my brain just kinda shut down. I remember being outside with my head in my hands, trying to figure out how to cover a section of the final fight sequence, and for a stretch of time my mind would not form any kind of functional thought. The only thing I could think was that I couldn't think. It was scary there for a few minutes.
Despite that episode, overall I do believe the heat added to the intensity, the brutality even, of the film's aesthetic. [Cinematographer] Shannon [Hourigan] did a great job to capture that "hotness" during production and really brought it out to full-effect in coloring the film in post.
AB: It was so hot during the day on the Joshua Tree sets that I felt like we were shooting in a sauna, but then at night it was freezing — and I spend most of the night scenes in my underwear, so, needless to say, I was a walking side of goose flesh. Of course, by hotness, you could've also been talking about all my hot co-stars. It was a lot of fun being the "voice of reason," "mother figure" character in a movie full of attractive men.
In your varied careers, did you ever imagine making a film like this?
AB: If a script makes me laugh out loud when I'm reading it then I'm in. There is so little out there project-wise that moves me, when I find one, I insert myself into the process. So, the answer is: I may not have envisioned Dust Up in my future, but I was open to weirdness and that was what I got.
WR: Making any film is such a journey of discovery and hopefully pleasant surprise, you really can't imagine how exactly, it will turn out ahead of time. I wasn't really even sure what kind of film Dust Up was until I was staring at Gaffey, Devin and Travis during the second night of shooting and it looked like the Village People had dropped by for a visit. At that point I was like, "Ah, this is the film we are making."
Ward, Dust Up was a little bit of a reunion for your Drexel Box crew — what is it like working with a team you've grown so close with?
WR: This is our family that began in college and has been going and growing ever since. Dust Up stands on the shoulders of all the projects and playtime we've had over the last decade plus. So much of what Dust Up is came from this collective sensibility and style we've honing as a team. Telling a story you love and believe in with the people you love and believe in is an excellent way to roll.
Lastly, what's next for you both? Amber, any plans to make millions of fans dreams come true and do an official Buffy reunion? Do you get tired of being asked about that?
AB: Never tired of it, because it means what we did on Buffy moved a lot of people. When you stop getting asked about the show, then you know it's all over. Aside from Dust Up, the last book in my Calliope Reaper-Jones book series for Penguin comes out in March. It's called The Golden Age of Death. And I am also in post-production on a web series called Girl on Girl.
And Ward, on top of the incredible films Little Big Top and Lo, Dust Up is further catapulting you towards indie legend status — what's next for you?
WR: Well, I just had a blast playing a part in an episode of Hawaii Five-0 that will air in early 2013. It was the perfect time to break away from all the Dust Up madness and get my acting on. From the writing/directing end I'm cooking up a few things, but still no way to know which will be the next into production.
The main contenders are a horror-comedy and an action-comedy, both of which will appeal to those who dig Dust Up. Travis and Shannon's latest film, The Dead Inside, just came out so everybody should view that immediately. They also have a new film that looks close to getting off the ground in a very big way, so we are super stoked about that heading into the New Year.
You can read my full interview with Ward Roberts and Amber Benson (we talk Money-Shots!) at The Donnybrook Writing Academy. "Dust up" is now available on Demand, iTunes and DVD — seriously give this movie a viewing, it is pure camp in the best and most lovingly violent way possible.
Source:huffingtonpost.com – Dust Up Ward Roberts and Amber Benson
We passed the $150k goal for the interview a long time ago, but the interview turned out to be especially cool, and took a little while to put together because of it. As an added bonus, at the end of the interview, we announce our $450k stretch goal, so make sure to stay till the end.
So here it is: my interview with Amber Benson.
P: Heya Amber. Thanks so much for being willing to help out with Worldbuilders this year.
A: Howdy, Mr. Rothfuss, Sir. I just want to take this pre-introduction to say thank you for the opportunity, Sir. Thank you.
P: Okay. I'm notoriously bad at introductions. So how about we do it this way…
Let's say you're at a party and you meet someone you desperately wanted to impress. What sort of things about yourself would you casually drop into the conversation to prove you're one of the cool kids?
A: I'm such a dork when it comes to interjecting myself into other people's conversations – I slowly edge my way in physically and when no one blocks me out I might offer a few head nods and a laugh – I've been accused of laughing at stuff that's not funny just to make people feel more comfortable or to fit in – and then when you add in someone I'm impressed by, well, I'm less verbal, more stare. That's my contribution to coolness…the direct stare. Like if I'm silent I'm cooler.
P: Is that the key to being cool? No wonder I'm no good at it. I talk too much.
A: Yes, the silent stare is the key to being cool…or making everyone think you're a homicidal maniac. I'm not sure which.
P: Ok we still need to do something like an introduction here. How about this. Let's take turns listing your notable accomplishments, with the understanding that some of the things we say might be complete lies.
I'll start with an easy one: you played Tara on Buffy the Vampire Slayer for about four years.
A: I played Amaziah, a male dwarf––which totally threw off all the little girls in the audience, in the Birmingham Children's Theater production of Snow White and The Seven Dwarfs when I was nine.
P: I think I saw that on IMDB.
You worked as a fortune teller in a traveling circus for a summer.
A: I have sold Magic Spin Art art and lemonade on the sidewalk in front of my house––though the lemonade was the bigger seller.
P: Once, on a drunken bet, you recorded a youtube video declaring your undying love for Orlando Bloom. It got a quarter million views before you took it down.
A: ORLANDO BLOOM!!! Get your facts straight, Mister! It was Don Knotts…jeez louise.
I co-directed a movie about aliens in an office that is called Drones and it's on Netflix streaming. (I guess that's more of a plug than a notable accomplishment, though I did notably accomplish it.)
P: And, lastly, you're the author of the Calliope Reaper-Jones novels. Is that how you like to refer to the series?
A: Yeah, I guess that's the best way to refer to them or I could just call them the Death is a PMS-y little biatch series…that could work, too.
P: Okay. On to the hard-hitting qua-journalistic type questions:
Are you a native Californian, or a transplant?
A: I am a transplanted Alabamian. I grew up in Birmingham, Alabama, but my formative teenage years were spent in the San Fernando Valley. So that makes me a Southern Valley girl…Like gag me with a spoon, ya'll.
P: What are you reading right now?
A: I just read Gillian Flynn's 'Dark Places' – like finished it last night – I'm slightly obsessed with dark thrillers/mysteries with twisted female protagonists. I think it's cause I'm all lily white bread boring girl in real life – I want to get myself all wrapped up in dark stuff to counteract my typicalness.
The book before that one was Anton Strout's 'Dark Waters'… apparently I have a thing for books with "dark" in the titles.
P: If you had to pick your favorite book of all time, what would it be?
A: Not bloody fair!!!! Argh…too many….beautiful books…uhm…okay, probably Hermann Hesse's "Journey To The East". I want to live in that book.
P: Wow. Heavier stuff than I'm used to. I have a copy of Siddhartha on my shelf, but I've never gotten around to it. I'll admit I have a bit of an irrational aversion to reading capital-L Literature. If it's a classic of some sort, it's hard for me to pick it up.
A: I like capital-L literature. Mostly because at some point I realized that a lot of it is just Harlequin Romance, but with flowerier writing.
All the same angst, but from a different time period.
Jane Eyre – flowerier writing, but a straight up (implied sex) bodice ripper.
Sense and Sensibility – flowerier writing, but straight up YA romance (with marriage and implied sex).
Siddhartha – Eat, Pray, Love took a few things from Herman Hesse.
War and Peace – all the conniving of that movie Mean Girls…bitchy women, manipulative men, naïve newbies.
P: You just saved me a whole lot of time with those summaries. Could you give me something for the Brothers Karamozov, too?
A: Damn you, Rothfuss! I'm gonna spin that question on its head and give you a run down on The Idiot (my fav Dostoevsky novel) instead:
The Idiot – uhm, a whole bunch of messiah action. So if you're a fan of the Bible, and there are a number of you out there, you'll love it. See the BIBLE – New Testament – for further reference.
P: Okay. Under your advisement, I'll bump The Idiot up over Brothers Karmozov on my reading list.
A: You had better bump it up, yo. I'm in no mood for your dilly-dallying around with the whole Russian Literature canon, dude.
P: So you're relatively new to the publishing world. Has anything about the process surprised you?
A: You do a lot of stuff for yourself – which I'm used to in the independent film world, but I thought publishing would be more hands on. Sadly, it's just like independent film – you're the first, last and only stop as far as getting people to fall in love with your work.
P: Speaking of indi film, I was curious to talk about Drones a bit…. Can we do that?
A: Yes. Yes, we can.
P: First, I have to say that I loved it.
A: Woohoo!! Everyone go check it out on Netflix streaming – just knowing about this movie makes you way cooler than all your un-clued in friends.
P: I seem to have developed a bit of a man-crush on Johnathan Woodward. I liked him well enough before this, but now it's more than that. I blame you.
A: For those of you who do not know the esteemed Jonathan Woodward…well, all I have to say is "if you snooze, you lose". No, just kidding. I feel like, in Drones, Woodso (you can call him 'Woodso', too, now, Pat, 'cause you are in the know!) actually channels a young Bill Murray post-Meatballs, but pre-Ghostbusters…it's kind of uncanny.
P: How did you get involved in the project?
A: My co-director, Adam Busch, and our producer, Jordan Kessler, were looking to make a film together – one they could shoot in Jordan's office in Louisiana. So they got our friends Acker and Blacker to write a script. The script was really good and the guys realized it needed to be made on a real set, not in Jordan's office and they needed some directing help, so they asked me to jump on board – and that's how it happened.
That's my story and I'm sticking to it. There were no drugs or prostitutes involved with the making of this film. I swear on a stack of Acme Bibles.
P: Which do you prefer: The relatively solo nature of writing, where you're in absolute control, but you also have to do all the work. Or the collaborative nature of TV and film where you have more help but less overall control of the finished product?
A: That's no fair! I love them both – writing is amazing because I am God when I'm sitting at my computer. I am the Master of that Universe – the Big Banger – the Decider – and that's a really, really nice feeling. Especially since real life is all about accepting that you have zero control over most things…and even the things you kinda have control over, you still end up ceding your power more often than you like.
On the other hand, making moves, TV, Web stuff is fucking amazing. To see something in your head and then to have it come to life is a feeling I liken to crack. Crack cocaine…a highly addictive substance. It's super collaborative, but if you pick your circle of collaborators wisely, and trust them and their taste implicitly then you kinda can't go wrong.
P: Since I've never been involved in it, it's hard for me to understand how collaborative storytelling in TV and film really works. I end up thinking of the script writer as the creator, the actors as interpreters (of sorts), and the director as an extremely hands-on editor.
How horribly off-base is that comparison?
A: There is some truth to what you just said. I always likened being an actor to being a pawn in someone else's chess game. I get bored easily and I like to move in lots of different directions––I'm just cool like that-Ha!––so being a pawn wasn't the most exciting thing for me. Although, it is the pawn alone of all the chess pieces who has the ability to one day become a Queen (or a knight or a bishop or a rook)…so there's that.
In television, they say the writer is King. In film, it's the director…and I kind of agree with this supposition. For me, it's just all about working with people I love and respect and trusting that the ideas they bring to the table up the game on the project.
I like to pretend to be in charge when I direct, but really, being in charge is all about letting the people around you shine…protecting them when things get tough…and not being afraid of letting the buck stop with you. I maybe the captain of the ship, but I can't do everything.
P: At this point, you've done work in each of those areas: writer, actor, and director. All other things being equal, which one do you enjoy the most?
A: I guess…even though I should dither around and pretend like I think they are all equal…that directing gives me the most joy. I like leading an army and that's what the director (if they're a good one) does. I'll ride into battle with my men and if I am wounded in the pursuit of creative passion then so be it.
P: Okay. Back to some book talk. How often do you check your Amazon sales rank?
A: I go a long time ignoring it…then I'll check it obsessively for like a week and then I'll ignore it again. It's like being a sex addict…only there's no sex. Just numbers and mean reviews.
P: Oh man. Tell me about it. I fell off the wagon just a couple days ago.
The Amazon wagon, I mean. Not the sex wagon.
A: There's a sex wagon?
P: Not here in Wisconsin. We don't go in for that sort of thing. More's the pity.
A: I live in LA – the home of the Sex Wagon, apparently. (Got that from googling sex wagon on my computer.)
P: You're just fucking with me at this point, aren't you? You're trying to trick me into googling "sex wagon" and then I'm going to see something that will leave me a gibbering wreck.
I'm not going to do it. I refuse.
A: You will either find…if you google sex wagon (in quotes) A DJ named DJ Sex Wagon or that the car with the Sex Wagon distinction is…drum roll…station wagon!!!!!
P: I'm still not falling for it.
You mentioned the mean reviews. Do they stick in your teeth too? A while back when I broke down I saw my last four Amazon reviews were all 2 and 3 stars. It took a remarkable shit on my otherwise good day.
A: Bastards.
P: Total bastards. Sharing their honest opinions in a public forum. Who do they think they are?
Out of curiosity, do you experience any of the same thing when you act? Would you occasionally go looking for reviews when you were doing Buffy and then obsess about them in the same way?
A: I learned not to give a shit about what people think of my acting. I act for myself, not for them and if they don't like it, they can go find the sex wagon and get stuffed. (Wow, that analogy worked out well for me.)
P: What's the most hurtful thing someone has ever said in a review of your book?
A: Oh, there are way too many bad things that have been said to fixate on just one. I actually had to stop looking at the reviews…uhm, immature is a nice word that gets used quite a bit, shallow…whiny….oh, joy. Yeah, I guess I'm a teenage girl – 'cause those adjectives I just said, well, they're used mostly to describe teenage girls.
P: What is the best compliment you've ever received?
A: "You made me snort my milk, I was laughing so hard." I am all about entertaining the peeps – my writing is the opposite of brain surgery – it should just make you laugh. Then I've done my whiny, shallow, immature best.
P: Do you have a particular piece of grammar that you screw up regularly?
A: "Get on a stick." Apparently, it's: "Get on the stick." Which makes me think of being on the rag for some reason, so I'm never gonna use it again, I've decided. I also misuse semi-colons on a regular basis. I like them an awful lot, so I try and use them wherever and whenever I can.
P: Ah hell. We were getting along so well. I happen to be a staunch anti-semicolonite. (Anti-semi-coloner?)
A: I am an Anti-semi-colonic-er, too! Hehehehe. I don't like either of them. I try not to use semi-colons or semi-colonics, but sometimes I am forced to and invariably I screw them up. Both of them.
P: If you could punch one author in the face, who would it be?
A: Myself…sometimes…but mostly I would like to baby tap Stephen King on the chin for being so damned creative. More of an annoyed punch, really, that one person can be so prolific. As far as a full on punch in the face, I reserve that for some of those Rush Limbaugh wannabe, right wing, conservative journalists/bloggers. They make my hackles rise.
P: Heh. Okay. We're good again. I can overlook our semi-colon differences in light of that.
Rumor has it that Voltare wrote on the naked backs of his lovers. Do you have any little rituals that help you write?
A: Hmmm…I knew I liked Voltaire. I like to check into a motel on the beach for a weekend to start each book I'm working on. It's like a 'start-cation'. It helps me get the book going – that is, until my dad comes to visit 'cause I always stay at a motel near him…and then I get no work done.
P: A while back I made a joke about "transition putty" on my blog. That being, of course, the stuff we writers buy at Home Depot to smooth out our rough transitions.
If you could have some sort of handyman tool like that, something like Plot Spackle or a Character Level. What would it be?
A: I would like to get a Rewrite Snake – it helps to get rid of all the crap you know doesn't really need to be in the book.
P: So while I was doing a little research online for this interview, I was googling around and was kinda stunned at the number of pictures there were for you online. There's fan pages… people put up Amber Benson wallpaper images for their computers….
Does all that kinda weird you out? Or is it old hat at this point?
A: It's a little weird. I get annoyed looking at myself in the mirror. I can't imagine anyone wanting to look at my googily face all day long on their computer. I know for fact that if you stare at my face too long it will open up a doorway to another dimension where the Fluffy-Froth people live – and no one wants to do that…unless you're in to Sex Wagons. They all have their own Sex Wagons in Fluffy-Froth Land.
P: It's true. I went there on spring break. I'd move there if it wasn't for the high property taxes.
A: Great place, right? Lots of cute boys.
P: Speaking of the sex wagon, are you writing anything steamy in your next book? Because if you are, we could do another team reading at Comic Con this year….
A: The fifth and final Calliope Reaper-Jones book "The Golden Age of Death" is pretty sexless…but I could write something naughty on a napkin and read that! I promise that it is a clean napkin…not a kleenex.
P: I've done a ton of readings in these last few years, but that one might have been the most flat-out fun I'd had in ages….
For those of you who don't know. Amber and I did a co-reading of a sex scene out of one of her books back in the day. The long version of the story and a video are over here.
A: I have to agree that it was balls to the wall my favorite reading. Really, it was just your accent that made the whole thing so amazing. It was SPOT ON!
P: Has writing sex scenes gotten any easier for you?
A: Yeah, a lil' bit. I've found that it's easier to write naughty bits in serious stories than in comedic ones.
By the way, I have had it up to HERE with 'then' and 'than.' From now on I'm just going to use 'thane' for both of them…it's got the 'a' and the 'e', so there's that thane.
Sorry for the digression. But seriously, when I'm writing straight up drama, I feel like I'm not allowed to laugh when I use the words "glittering woman hole" or "shining man member", it just cheapens those glamorous, golden phrases of lasciviousness.
P: No way would you ever write something that uses the phrase "Shining Man Member." I dare you to write a piece of erotica including that. I double-dare you….
A: Now, I don't know if you were aware of this…but there is something physiologically wrong with my brain that makes me incapable of turning down a dare. It's been a real problem for me, especially during those troubled adolescent, playground years when dares can make or break you popularity-wise.
With that said, I hell yeah can make "shining man member" the sexiest, naughtiest phrase that ever existed. But I double dog dare YOU to write a piece of erotica that uses the phrase "glittering woman hole" – and no hiding behind your beard because this means war, you know. A glittering woman hole/shining man member all out battle to see who is the new heir to E.L James and Anne Rampling (aka you know who).
P: Okay, hold on. We should really do this.
Here's my thought. Right now we're creeping on on Worldbuilder's 400K stretch goal. When we hit that, I'm going to donate an extra 100,000 dollars to Heifer International. 
But we still need a stretch goal for our $450,000 mark. If we manage to hit that goal, how about you and I agree to write this piece of Urban Fantasy erotica together? We'll trade it back and forth, scene by scene.
A: Oh, Mister, you are SOOOOOOO on!!!
P: I, of course, will write from the perspective of the female lead, the plucky redheaded vampire hunter named…. Um….
A: Deuteronomy Jones. That's your character's name. And she's a transsexual plucky red-headed vampire hunter.
P: Oh so that's how it's going to be, is it?
Okay. We're on.
You, of course, will be writing the part of Lance Franklin. A rogue warlock-in-hiding due to the secrets in his troubled past. And because he's half-succubus. (On his mother's side.) Also, he's a Calvin Klein model.
Man. I don't know if I'm excited about this. Or terrified.
Either way, you're the best, Amber. Thanks so much for helping out Worldbuilders. And thanks for the lovely interview.
A: No, you're the lovely interview, Mr. Patrick Rothfuss. And I look forward to some verbal dickery with you in the near and naughty future!
P: I'm looking forward to it too…
But remember everyone. It only happens if we hit $450,000 before the end of the fundraiser on January 21st at midnight.
Source: blog.patrickrothfuss.com – 150k goal interview with Amber Benson